Cooler Master Hyper N520 - New CPU cooler
Posted on 25th Feb 2009 at 08:38 by Richard Swinburne with 2 comments
Cooler Master dropped in to show off its latest N520 CPU cooler yesterday afternoon. Priced at around £25, it's certainly affordable and sports a slightly new dual fan centre off-set style that covers any potential dead zones that would otherwise exist in a single fan set up.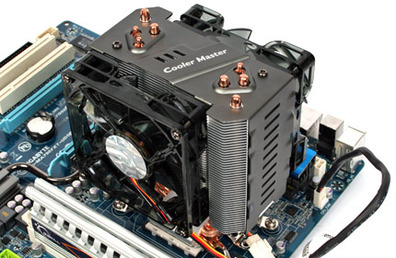 Noise-wise it's really not that bad at all - quiet and unobtrusive, although we have to admit the fans feel a little cheap and plastic, but they are certainly no different from everything in this budget and we're rather spoiled by using high quality Noctua stuff most of the time to be honest.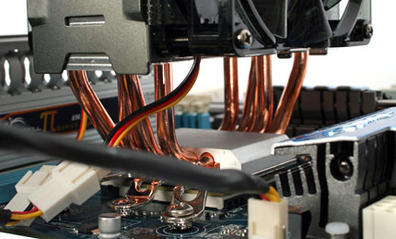 The eight U-shaped copper heatpipes provide good cooling from the brief testing we've done on the Gigabyte AM3 board shown, although since this is a pre-production model we don't have numbers for you yet.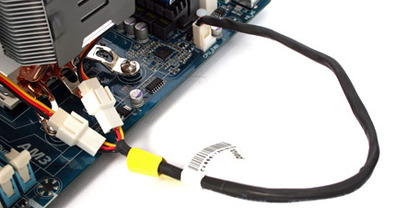 The real downsides are the still craptacular mounting mechanism Cooler Master still insists on using - the one that requires three arms or two and your head to balance and screw in the bolts. The second is that both fans are a bit smaller than most of the current heatsinks on the market at 90mm instead of 120mm, and it requires a rather ugly 2x3-pin to single 3-pin adapter cable.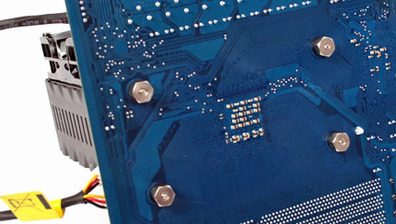 Other than that - if you only ever want to install a heatsink once, it seems a solid product for a reasonable price. We'll have a full review when we get hold of a production unit.