My Five Best iPhone Apps
Posted on 18th Feb 2009 at 09:17 by Alex Watson with 23 comments
Part 1. What's your name and where do you come from?
Hello, Hello. It's good,
as they say
, to be back. Although, do they say that any more, now that Gary Glitter's a disgrace and Morning Glory is over ten years old?
Anyway, I thought I'd introduce myself. My name is Alex Watson, and though I'm the editor of Custom PC, this isn't the first time I've written for the mighty
bit-tech
. You might have seen my name on the
round-up of iPhone earphones
at the end of last week, but I also wrote for the site back in 2006, on topics such as
game difficulty
,
weird controllers
and
politics
.
In the intervening years, I've always been a reader of the site, and it's great to be back now as a writer, and to have the
bit-tech
guys working right next to Custom PC.
Along with the other CPC staff, I'll be contributing articles to the
bit-tech
blog and to the site itself (this is a process that goes both ways – if you picked up the last issue of the mag, Issue 66, with the flaming game discs on the cover, you'd have had the pleasure of reading
bit-tech
Editor Tim's erudite take on what DirectX 11 means for instance, and Joe's excellent game writing will be brought to inky life in the next issue).
Part 2. Specialist subject
As well as saying hello, I thought I'd use this first blog post to talk about a few of the tech things that interest me. Although I've worked for CPC for over five years, I still get excited about new technology – I always think it's depressing when you meet other geeks who moan that they're bored with computers these days. The people who say nothing is new, graphics cards and CPUs are all the same.
That said, the following might sound a little hypocritical, but probably the area of tech that I'm most excited about at the moment are smartphones. When it comes to the iPhone, Google's Android and Nokia's next-gen models, you're got a situation as exciting and volatile as PCs were in the early 90s. Hardware is developing at a rapid pace, with huge changes in a matter of months and software is cheap to buy, and more importantly, cheap to develop.
The barriers to entry for mobile developers are incredibly low. When it comes to software, computers are relatively static – want to make a new Office app? You probably wouldn't bother, Microsoft dominates the market. Got a good idea for a new photo editing program? Good luck with that. There are exceptions of course but desktop PC software market moves
slowly and sludgily
these days, and
marketing hype
is more common than revolutionary new ideas. It takes a big firm to really disrupt things, such as Google with
Chrome
.
It's completely different when it comes to software running on phones. Anyone with a good idea can brush up their coding skills in a reasonable period of time (weeks not years), get to work and make something. Of course, some phone software is complete dreck, opportunistic, overpriced and a total waste of time, but equally there are phone apps which are smart, different, engaging and useful. All of which brings me to my third point.
Part 3. Five Great iPhone Apps
1. QuadCamera (£1.19 from iTunes)
The problem with multi-lens toy cameras such as those from Lomo is that while they're fun to play around with, the fact they involve film makes them expensive experiments. QuadCamera takes a series of photos in quick succession to create really interesting images. Even better, you can grab the free QuadAnimator app from the developers' site and make animated gifs, which, as everyone knows, are so funny as to be considered one of the periodic elements of comedy.
2. Instapaper (Free from iTunes)
Log in to Instapaper and you can save interesting articles you find on the web to read for later. Fire up Instapaper on the iPhone when you're on the train or a break at work and there's your list of links to good reading. Even better, the iPhone app allows you to get a text view of the page, which formats the text ideally for the iPhone's screen.
3. Trains
Sadly it seems like this is no longer available; it allowed you to see the live departure boards at a selection of UK train stations. The interface was a elegant (although it was basically a rip-off of the iPhone's weather app). Suggestions of replacement train time apps welcome.
4. Fieldrunners (£2.99 from iTunes)
Much as it pains me to disagree with Joe, I felt
his review of Fieldrunners
was a little off the mark. Specifically the mark that says 'this is one of the best games I've played in months.' True, you have to like Tower Defence Games, and there are only three levels (it's been updated since Joe reviewed it), but I love its Chaos Engine style graphics and the slickness of the controls. You know you're on to a good thing in a game when the controls seem to melt away and it's just you and your pixellated enemies. Such is the case with Fieldrunners.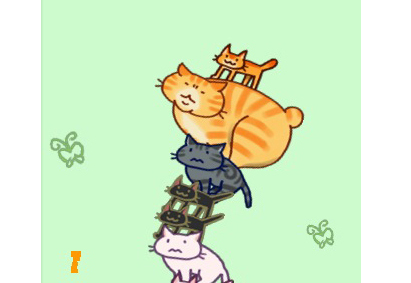 5. TumiNeko, aka Mew Mew Tower (£1.19 from iTunes)
It's quite something to be in with a shout of being called the silliest app on the iPhone – especially when other contenders include an app that allows you to make photos of boobs wobble, and a virtual pint which not only removes the alcohol from the lager, but the actual lager too, thus making it the least fun thing ever – but regardless of these fine efforts, Mew Mew Tower has to be in with a shot. It's basically giant jenga. With cats. Needless to say it's from Japan.