bit-tech vs. the Antec 900
Posted on 6th Feb 2009 at 10:10 by Harry Butler with 13 comments
Here at
bit-tech
we like to think of ourselves as connoisseurs of cases, the site's modding heritage only adding to our cultured palette for all that is aluminium and shiny. Even in our busy offices, the excitement of unboxing of a newly arrived chassis is always something that gets people up from their desks to come and have a look.
We make no excuses for our preference for smooth, stylish lines in case design over industrial or military looks, and to us cooling performance isn't everything – what's the point of strapping dozens of high RPM cooling fans into a case when the noise it makes infuriates anyone within a twenty foot radius? Good design needs to reach a compromise.
For us a chassis needs to be the complete package – great looking, easy to use, well cooled and easy on the ears – to garner an excellence award, something that only two cases, the
Antec P182
and
Coolermaster ATCS 840
, have been able to achieve.
Enter the
Antec 900
– one of the most controversial cases amongst the editorial team here at
bit-tech
. When ex-editor Wil Harris originally reviewed it, he wasn't exactly taken by it. In fact, he hated it, citing its looks, its ease of use and its wind tunnel-esque noise levels in what was a thoroughly negative review.
But it didn't make a blind bit of difference, as the Antec 900 went onto become one of the most successful cases ever to grace e-tailers. With such a hugely capable cooling setup and a price tag below £100, amateur system builders and gamers flocked to a well made case that came with a window, LED fans and more cooling than you can shake a wind tunnel at.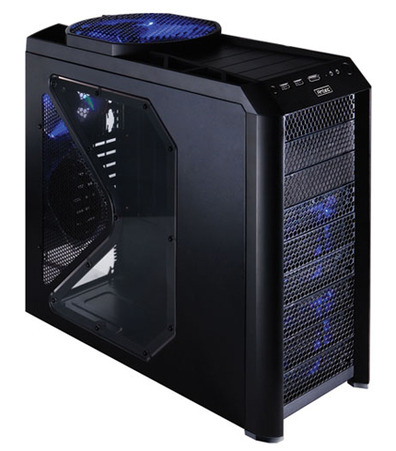 The Antec 900 is back as the 902
A quick look round any LAN party in the last few years and you'd be amazed at the number of Antec 900s (and more recently the smaller Antec 300 and larger Antec 1200) on display. No one seemed to care about the overly industrial aggressive looks, or the huge amount of noise generated by the single speed 120mm fans, or the woeful lack of dust filters. Despite the flaws that Wil (and many others) found with the case, the Antec 900 has become ludicrously popular.
This leaves us worried we're perhaps a little out of touch. We're the first to admit that sometimes we can be a little over critical but then that's what we're supposed to be. I'm paid to spot the flaws in products, to find those annoying problems and oversights that'll cause annoyance and disappointment. To just accept a chassis as flawed but still recommend it would mean I wasn't doing a very good job at the whole "reviewing" thing.
Which leaves us at today, when the follow up to the Antec 900 - the Antec 902 - arrived in our offices. Boasting a number of improvements following what must have been a huge amount of customer feedback, will the Antec 902 divide our opinions in the same way that the 900 did? Watch out for a review in the coming weeks to find out, but be assured if there are any flaws, we'll let you know about them.