Intel to release Core i7 975, new D0 stepping soon?
Posted on 3rd Feb 2009 at 15:21 by Tim Smalley with 2 comments
Although most of the world is hurting right now because of the economic slowdown, Intel looks set to release a new high-end Core i7 processor in the coming weeks or months following some early benchmark results which have appeared on the
Xtreme Systems
forums.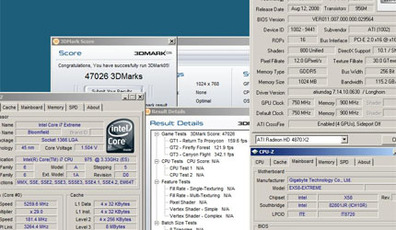 Xtreme Systems honcho Charles 'Fugger' Wirth teamed up with Corsair, Gigabyte and Intel to break the 3DMark05 world record, stealing it back from
Team Finland
, who put AMD back on top in this benchmark for the first time in a long time. He broke the previous record of 45,474 with his pair of Radeon HD 4870 X2s humming along at their stock speeds and clocked up a new highest score of 47,026.
The CPU was, of course, heavily overclocked - it was running up at over 5.25GHz with operating temperatures down at -50°C. That's not your every day rig, but it'll be interesting to see how far the i7 975 will clock at even lower temperatures - most overclockers prefer to play around at sub -100°C, so this demonstration was merely a walk in the park.
What was most interesting about the demo though was the new stepping information for the i7 975. It looks like Intel is readying a new D0 stepping that will be rolled out at the same time as the i7 975, which looks likely to improve overclocking for the masses. With that in mind, think of it like the Q6600 G0 stepping - it'll probably be cooler and less power hungry. Both help with overclocking, so expect to see even more records tumbling with the D0 chips when they become available.
Speaking of availability, there's no word on it yet and none of our sources would spill the beans. Rumours from them Internets suggest a
Q2 to Q3 timeframe
though and don't expect the i7 975 to be cheap. It'll carry the standard $999 Extreme Edition price tag, while the slower D0 chips are unlikely to command hefty premiums.