So, I built my new gaming machine last night
Posted on 2nd Feb 2009 at 12:55 by Tim Smalley with 33 comments
I've been wanting to build my new PC for some time now because I've been having my fair share of issues over the past few months, but it's not as new as many of you would expect. I've been running a quad-core processor since 2006 and I haven't felt the need to upgrade it yet, even though Intel has now released its true successor, Core i7.
I'm still running a QX6700 and this is the third system upgrade the same processor has gone through. I guess it's a testament for how forward looking Intel's quad-core processors were - performance enhancements came with the 45nm Penryn core and then there's
even more
performance available with a Core i7, but I'm more than happy with how much performance there is on tap with my QX6700.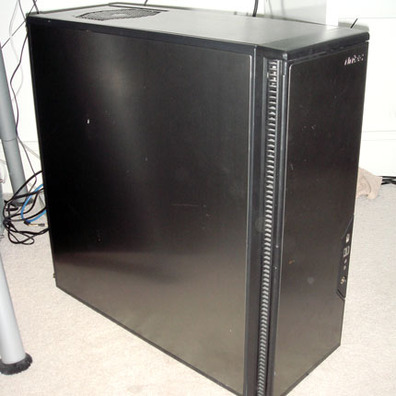 I've merely upgraded some parts of my system that were either on their last legs or just getting a bit long in the tooth.
My old
P5B Deluxe motherboard
has been in and out of my system twice now - it was my board of choice when I first upgraded to the QX6700 and I'd upgraded to a P35 motherboard a year later. However, I didn't get on with that particular board, so I went back to my 965P-based stablemate. But it's been on its last legs for a while, and it was the most important thing for me to change.
I believe it is what has been giving me the most headaches over the past few months because, although I'd got 4GB of memory installed, every monitoring tool I've tried said only 3GB of it was working. I'd tried moving the memory around to no avail - each time it said there was just 3GB of the 4GB working. It had to be a dead memory slot.
Understandably, this was causing my whole system to slow down and often grind to a halt so it had to be fixed. I talked with Rich at great length about what motherboard I should upgrade to, and in the end we decided that the
Asus Maximus II Formula
would fit the bill for my needs and, touch wood, that has worked out incredibly well so far. What's more, it was our motherboard of the year last year and one of an elite group of boards to be given a 10/10 overall score, so it'd be a bit strange if one of us didn't put our money where our mouths are.
With my 4GB of RAM now working fine, there was no need to upgrade my memory - I'm still running 4x1GB OCZ PC2-6400 C4 modules at pretty lax timings. The reason I've done that this time around though is so that I can increase the memory bus with some overclocking. Although I said my CPU has more than enough power, I've decided that a bit of overclocking can't hurt - my main reason for not overclocking in the past was the power consumption, but because the Maximus II Formula allows Intel SpeedStep technology to continue working when using the CPU Step Up auto overclocking function, I'm no longer going to be needlessly consuming power that I'm not using. I used the 'crazy' setting and that pumped my CPU up to 3.51GHz (351x10) - that should be more than enough to keep me going for a while.
I've also upgraded both my graphics and power supply as well - I've gone with BFG Tech on both fronts because I've had good experiences with the company as a customer in the past. The graphics card I opted for was a BFG Tech GeForce GTX 280 OC, which I've got running at its stock speeds as it should be plenty to power my current 1,680 x 1,050 monitor with lots of anti-aliasing turned on for good measure. Previous to this card, I had a Radeon HD 4870 512MB in my system - a great card, but there are a couple of downsides. First, the amount of anti-aliasing I was trying to play games with was proving a little too much for the card's 512MB frame buffer and second, its idle power consumption isn't
that
great. The GeForce GTX 280 doesn't have either of these problems and it is actually a pretty power efficient card with all things considered. There's also support for PhysX as well, and I've been wanting to play
Mirror's Edge
ever since I first saw the console version. Of course,
Mirror's Edge
is one of the first games to implement PhysX and so I want to play the game with all of that turned on... even if it is only eye candy.
The power supply I've opted for is BFG's 800W ES Series unit - it combines high power efficiency afforded by the innovative design with pretty solid rails. It's also an exceptionally quiet unit when running at the kind of load levels I'll be using it at.
The only other hardware upgrade I've done was to my storage array - I'd been collecting hard drives more readily than stamps, it would seem. I had five different drives in my system before I upgraded - two 500GB Western Digital Caviar Blacks, a Maxtor MaxLine III 300GB, a 120GB Maxtor DiamondMax Plus 9 and a 160GB Western Digital Caviar. I've replaced the three smaller drives with a single 1TB Samsung SpinPoint F1 and that's now my boot drive while the two 500GB drives are for games, music, video and photos. My Steam folder is almost 200GB on its own, so one of those drives is reserved solely for my collection of games.
Probably my most interesting upgrade though was to the operating system. I've been testing the Windows 7 beta on my notebook ever since I got back from CES and I've so far been thoroughly impressed. So much so that I didn't want to go 'back' to Vista when it came to building this machine - it's not that I don't like Windows Vista, I just believe Windows 7 is a much better OS. Even in its beta state.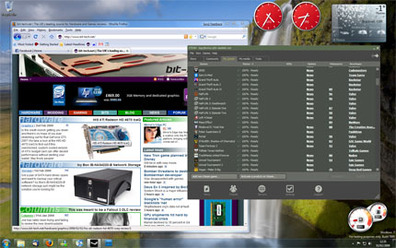 I'm keen to find out how stable Windows 7 is as a gaming platform at this point in time because Windows Vista drivers appear to work just fine. Of course, they're not based on the newer WDDM 1.1 specification yet, so I won't see any advantages from what the new spec brings, but that's not a major concern at the moment. I've currently got the 181.22 WHQL drivers installed and so far so good - I'll keep you updated on my progress with the OS, but I see no reason to go back to Vista for the time being.