RIP: DFI motherboards don't like photography
Posted on 27th Jan 2009 at 17:38 by Richard Swinburne with 5 comments
Urgh, another day, another hardware failure. I was aiming to have a review of DFI's LANParty 790FX-B M2RSH done this week - it's all tested (albeit slower in every-single-benchmark compared to the MSI DK 790GX Platinum), and I literally only unplugged everything for some photography, before putting it back on the test bench again for some more stress testing.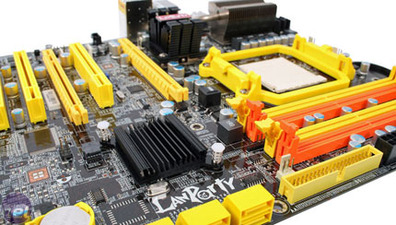 Sadly, the LED readout says only 88 and the fans spin up to their full flow without a hint of relent. Changing every piece of hardware later has no impact - something static must have hit it, which is surprising considering I passed on wearing nylon underwear today.
Since DFI, like the rest of Taiwan, is away celebrating Chinese New Year this week (and a Happy New Year of the Ox to all), we'll have to come back to this at a later date. Sorry! We are
trying
to get some AM2+ motherboard reviews done following AMD's return to form with Phenom II, but our Asus M3A79-T failed late last month with an Athlon X2 7750 in it the week before we were going to review that as well, so it looks like our luck just isn't that great with AMD motherboards at the moment.
To be honest, we've not had the best of times with it - the PWM heatsink constantly overheats without an 80mm fan over it, it failed our stress test with the Phenom II 940 CPU in it and the CPU heatsink orientation means it interferes with the memory slots. I was still trying to get some more playtime and overclocking done today but it has been generally quite finicky with our Corsair PC2-8500 Dominator memory and the more aggressive performance options. We're currently talking these issues over with DFI.
We have got some new AM3 boards in already though - The Asus M4A79-T (not to be confused with the non-T AM2+ version) and Gigabyte's 790FX-UD5P. I'll don the full "
Intel bunny suit
" and try not to kill those ones too. Promise.